Does it make any sense to spend 80 Euros in a gaming mouse without any plans to play a single game with a computer? In this post my thin thoughts around the topic. If you are too lazy to read the whole post I'll expose the answer here: Yes, it does.
If you are brave enough and dare to read the full post you'll probably get some ideas how to reduce mouse movements in computer screens with programmable mouse after setting mouse buttons to do the most important operations.
My previous mouse
I went to local computer hardware dealers store in the beginning of December to by a new mouse to replace the predecessor which went broken. I used to have Logitech G403 (Wired), but somehow one day the mouse wheel decided to work independently and scroll the screen what ever direction regardless did I rotate it up or down. There were no driver updates available in my computer nor for the mouse and the same happened if attached to another computer. So I figured out it is time to get a new device.
This Logitech G403 has been a handy tool for me few years. And yes, we can say that in its nominal meaning – a very handy. G403 provided programmable buttons and I assigned them functions Windows Magnifier Zoom in and Back (Browser and Windows Explorer functionality). I'm presenting things so often that Zoom in was a useful functionality to focus on details in the screen while explaining them to the audience. Previous is the activity I use all the time while working with browser
Logitech G403 is still in production and available in stores and I had really good experience in it. However, some tiny red devil in my shoulder whispered to my ear why not to have some programmable buttons more?
My new mouse
With a strong trust on Logitech devices I ended up to buy a Logitech G502 HERO (Wider) as my next hand tool. Why? Some decision points here:
11 programmable buttons
ergonomic design (at least my hand reported so)
user defined tracking DPI settings
my intuition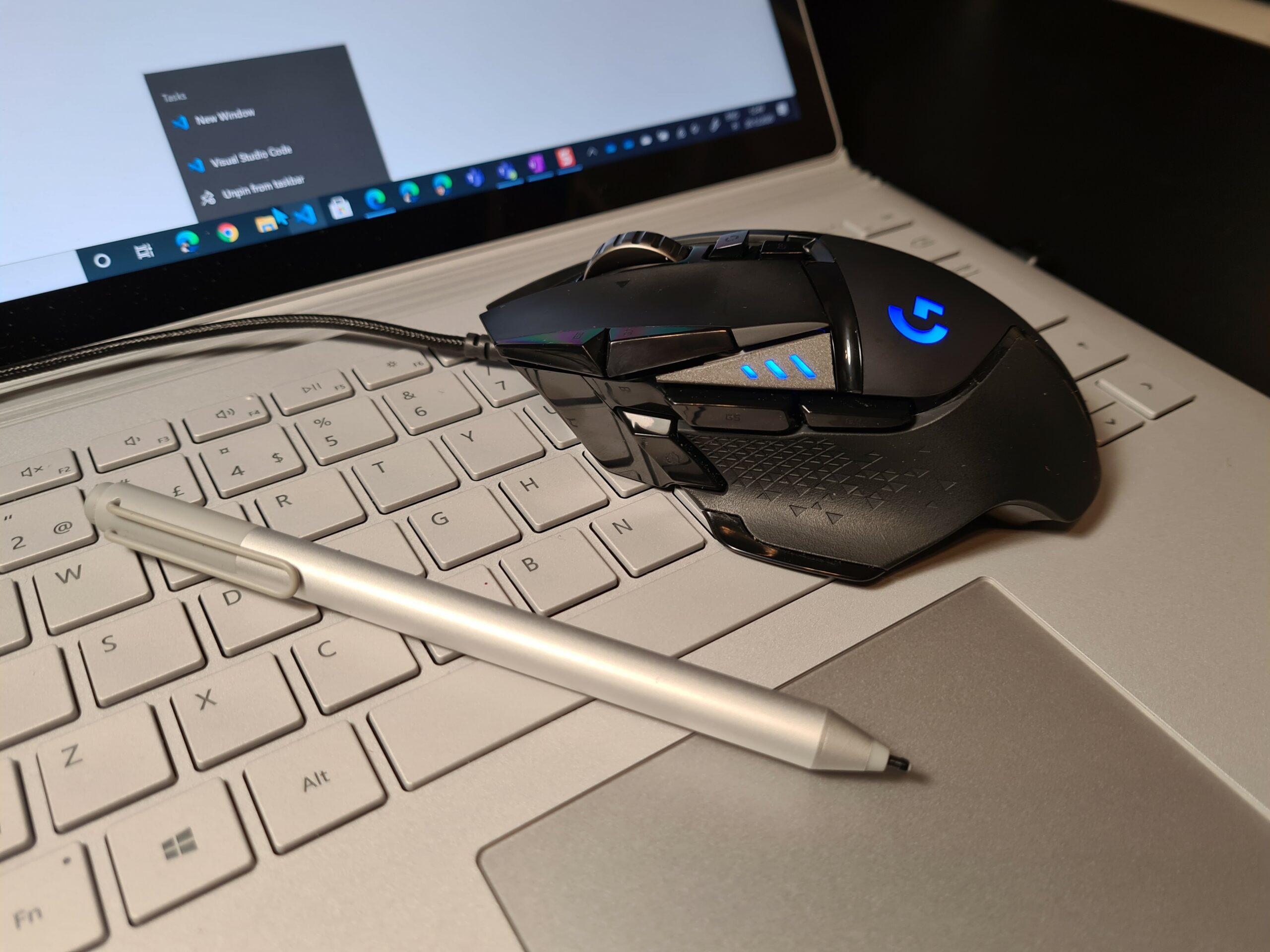 Mouse button configuration
As a right-handed person you can guess what I'm doing with left and right buttons. And the wheel. I didn't change their functionalities at all. As well buttons G8 and G7 I left unchanged. Namely those buttons which are designed to be used with index finger are for increasing DPI up and decreasing DPI down. That's totally OK for me. During the first weeks I have been using them as they were intended to.
What about those three buttons to be used with a thumb? The first one which is designed for DPI Shift I left as it is. This button is always under my thumb tip and that is why DPI switch is good option for that button. If I accidentally press it nothing happens except mouse pointer is moving more slowly. I tell you what – when capturing screen images with SnagIt I want to clip images precisely from their corners and borders. This button is for making sure this will happen! I adjusted the slowest DPI level to 600 which is really slow (technical minimum value is 100 for this mouse) and now I can clip and crop images as I want.

For buttons G4 and G5 I made some adjustments. As you remember I said earlier that I was using Zoom in function with my previous mouse. After scaling and weighing my habits I decided to abandon Windows 10 Magnifier, because I can use Windows Key and + as well as Sysinternals ZoomIt.exe which I actually use quite a lot. That is why I switched G5 to act as Previous/Back. Ergonomic and user experience considerations in this decision are straightforward – just a minor thumb movement to upward without bending a finger and a click.
How about G4? What did I do with that button? I say, haven't taken as many screen shot as I have done during the last three months. I have been SnagIt heavy user lately. Story behind this statement is that I have been loaded with creating presentations, instructions, manuals, quick start guides and other content with images and illustrations. Therefore I created a macro with Logitech G-Hub. That is a software for managing Logitech's devices attached to your computer. The purpose of that macro is to launch snagit.exe and send keystrokes Ctrl+Alt+Shift+F12. That keyboard combination is in my SnagIt for capturing All-in-One including mouse pointer with a 5 second delay.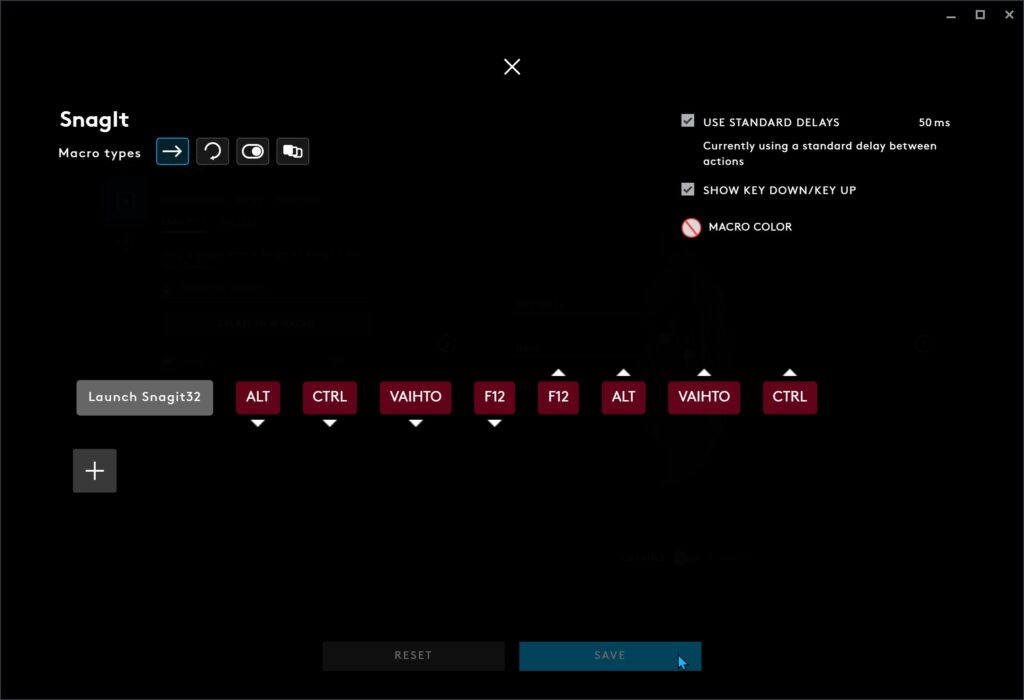 Capturing screen haven't ever been as easy as it is now! Just bend a little my thumb, press a button and the magic happens.
What else, what are my options?
As you noticed I didn't mention G9 at all. That button is located in top on the mouse and pressing that will require to raise a hand and bend middle finder heavily before it is possible click the button. See the figure below: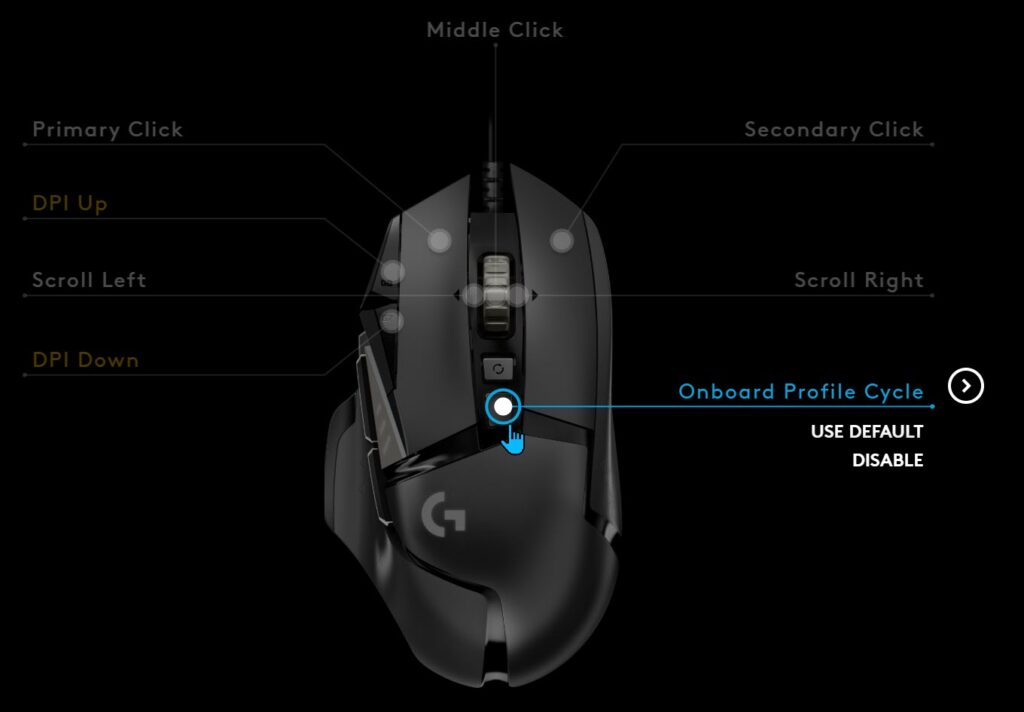 There is a support for five different Onboard profiles and G9 button is for switching between the profiles. Sounds good. I think I have no need for that, but in this point I reserve all rights to be wrong. Maybe I could use one profile for content and presentation creation. Then the second profile with different mouse button setup could be useful for googling and browsing. Possibly the third profile I could use with Microsoft Teams with a button definitions to open Teams chat, going to my teams, opening a calendar, shifting to Tasks & Planner. That would require some G-Hub macro creation to define each Teams feature to be launched by a targeted mouse button.
Evaluation
During these few weeks with my new mouse I have had plenty of work to be done and that is why I have get customized with my new mouse. Even I'm an older guy I have learned to use the button activities "directly from the muscle memory" and do not need to think separately what these additional buttons do when pressed.
Based on my experience on these G403 and G502 mice I strongly recommend IT Pro to use such a mouse for streamlining interaction with a computer. Christmas 2020 is soon. If you have not purchased Christmas present to your loved ones this is a pro tip! No matter is it wired or wireless mouse – the improvement in mouse usage is obvious.
Disclaimer
Logitech International S.A. has not done any sponsorship regarding this post. I purchased these mice mentioned in this post by myself using my own funding. If they some day donate something to me I probably accept it. If you think this post is helpful you can offer me a beer next time we meet in person. Take care until that day and Happy Holidays!